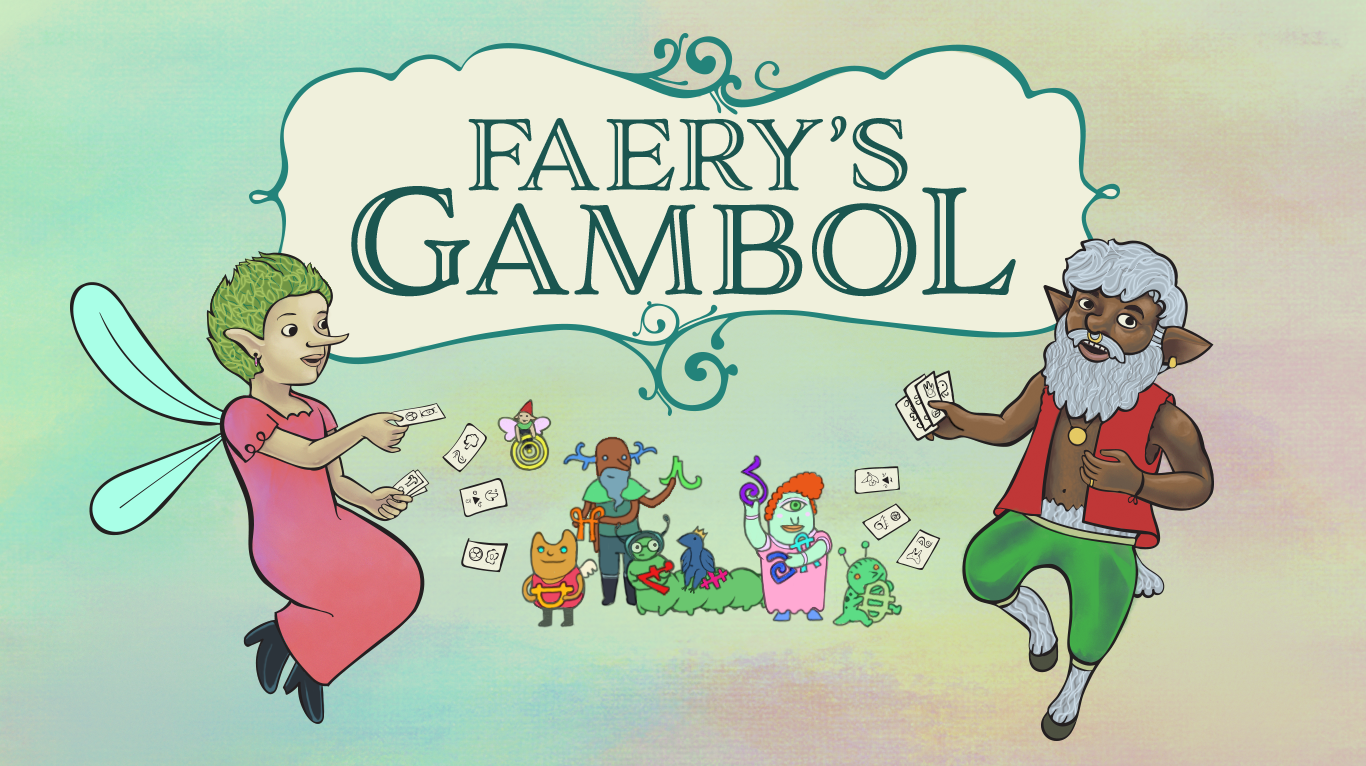 Faery's Gambol
Faeries love their games, and Faery's Gambol is one of the oldest, most widespread games in their world. It's also one of the most difficult for a human bystander to comprehend because the real game has no Standard Ruleset. Over the years the game has been iterated on countless times, rules are added and removed too fast for many to keep up with, and it has fractured into thousands upon thousands of regional variants. Some fae believe the true art of the game is the discussion and determination of what the rules actually mean. Matches rarely end so much as ramble into other activities.

Yes, Faeries love their games. They also love their chaos.
I would never claim to be the authority of what the rules of Faery's Gambol actually are, but after years of observation I've tried to come up with the most simplified yet universal version I could engineer. I bring to you, Mathandr's Standard Ruleset for Faery's Gambol.
Faery's Gambol is a collectible card game that encourages players to make up their own cards and rules. Many cards are available for free to print out, copy, and alter in whatever way you'd like. All players should begin with the Standard Ruleset, crafty players should grab the How to Create Faery Cards guide, and anybody who wants to skip creating their own initial deck and jump into playing the game should download the Faery Cards 0-50 PDF which includes 50 printable cards. Downloads of each are available below these pesky paragraphs!
The Standard Ruleset and a balanced deck of Faery Cards, both offered for free here, provide a quick strategic game with a healthy dose of chance. At its heart, however, Faery's Gambol is a creative exercise designed to help people come up with ideas - Balance is not as important as whimsy. The game is really an excuse to show off your own creations!
What exactly are Faery Cards?
It's been a long time since the Faery World and ours was very intertwined. The Fae have not been openly seen on this side for hundreds of years and most people will go their entire lives without ever seeing one - but there are still ways of glimpsing into their world and saying "Hello!"
Faery Cards are one way to do so. The Fae are creatures of the imagination. They live in a world where all of humanities' hopeful wishes, happy memories, and joyful delights literally manifest as brand new fae. When we imagine what one might look like we are actually imagining one that already exists, and when we think of them fondly they can feel it. Creating a Faery Card allows others to meet the fae you've made a connection with as well.
Faery Cards aren't just useful for Faery's Gambol. Many like to include quotes, proverbs, and meaningful symbols on their cards to be used in the art of fortune telling, for instance.
What's Here?
Faery's Gambol - Standard Ruleset Contains a basic set of rules where all players should start.
Printable Faery Cards 0-50 PDF (3"x5") BW Contains 50 free Faery Cards with their Runes filled in, everything you need for 2 players. These helpful ambassadors to the Faery World are from my own deck and are a quick way to jump into the game. You only need 15, so pick and choose as you like.
How to Create Faery Cards An exercise to spark some inspiration and create Faery Cards from scratch, the real reason for the game! Also contains a Rune Guide.
What Does it Cost?
This game is really my reaction to other collectible card games that require a high disposable income to buy in to. I wanted to make a game anybody could play and expand upon, an "open source" game if you will. The Standard Ruleset and the Faery Cards I make are not for sale, they are yours.
That said, donations are greatly appreciated.

| | |
| --- | --- |
| Status | In development |
| Category | Physical game |
| Release date | Jul 01, 2019 |
| Author | Mathandr |
| Genre | Card Game, Strategy |
| Made with | Adobe Photoshop, Adobe Illustrator |
| Tags | collectible, Creative, Drawing, exercise, faery, Fairy Tale, inspiration, runes |
| License | GNU Lesser General Public License v2.1 (LGPL) |
| Asset license | Creative Commons Attribution_NonCommercial v4.0 International |
| Average session | A few minutes |
| Languages | English |
| Multiplayer | Local multiplayer |
Download
Click download now to get access to the following files:
Printable Faery Cards 0-50 PDF (3"x5") BW
4 MB
Faery's Gambol - Standard Ruleset
1 MB
How to Create Faery Cards
260 kB